I am deeply passionate about the written word, in all its diverse and marvelous forms. Currently I spend my time as a writer, editor, publishing consultant, and cultural hipstorian [sic] in Brooklyn, NY.
I've been working in publishing for more than a decade, in many roles: Director of Matchmaking for Gotham Ghostwriters, Editor-at-Large for Hyperallergic, Copyeditor at MTV News, Associate Editor at Random House, Assistant Editor at Stonesong Press and Open Face Sandwich, Assistant at the Donald Maass Literary Agency, and store manager at New York's famed Strand Bookstore. I've also been a freelance editor for more than 80 publishers and websites, as well as offering a broad array of editorial services to individuals.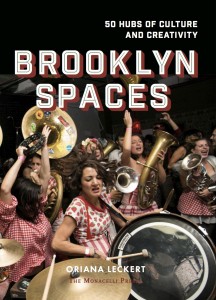 In addition, I'm a writer and journalist, focusing on the arts, culture, and the inner workings and bizarre beauty of the best city in the world (NYC, obvs). Last year I wrote my first book: Brooklyn Spaces: 50 Hubs of Culture & Creativity (Monacelli Press), based on my ongoing project Brooklyn Spaces, which chronicles DIY and underground culture across this amazing borough I call home.
A few more fun bookish facts about me: I co-founded an all-girl graphic-novel book club called Jugs & Capes, I'm one of the all-time top-100 reviewers on Goodreads (a site with 30 million members!), and I moonlight as Agent Brooklina for the book-spying site CoverSpy.